Chromebooks offer various options for audio output, including built-in speakers, a headphone jack, and Bluetooth connectivity. The good news is that switching between these audio outputs is quick and simple on a Chromebook.
Whether you're listening to your favorite music, attending an online meeting, or watching a movie, the audio output plays a crucial role in your overall experience. This guide will walk you through the steps to change where your audio is directed based on your needs.
How to switch the audio output in Chromebook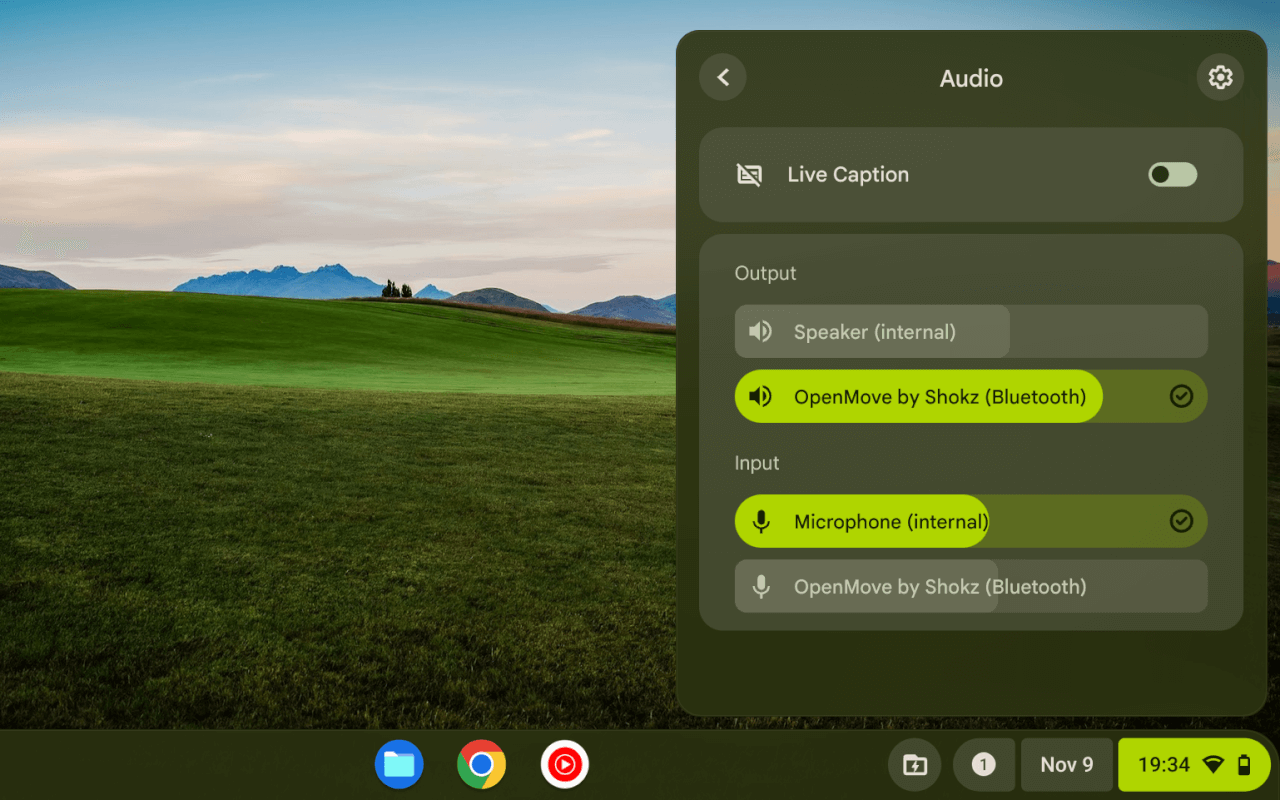 To switch between audio output devices on a Chromebook, follow these steps:
Click on the status area in the bottom right corner of the screen. This brings up the system tray menu.
Look for the speaker icon next to the volume slider. Click on the small right arrow.
A menu will pop up showing all available audio output devices detected by your Chromebook.
Select your preferred audio Output device. You may also select the Input device if you wish.
Close the menu and test the new setting by playing some audio on your Chromebook.
Available audio outputs in Chromebook
Here are the main audio output options available on most Chromebooks:
Built-In Speakers – All Chromebooks come equipped with stereo speakers so you can listen to audio directly from the device without any additional accessories. The speakers provide decent audio quality for system sounds and music playback.
Headphone Jack – Some Chromebooks have a 3.5mm headphone jack allowing you to connect wired headphones or external speakers. This is useful when you want a more private listening experience or higher audio fidelity.
Bluetooth – Chromebooks support pairing Bluetooth headphones, speakers, and other audio devices. This allows wireless connectivity to audio accessories without cables.
HDMI/USB-C Ports – Connecting an external display via HDMI or USB-C provides audio output to the display's built-in speakers. The audio can be redirected through the monitor when desired.
Conclusion
Being able to quickly change where your audio is directed is handy for privacy, sharing content with others, or connecting to different devices. With the simple audio output menu in the system tray, you can switch sound sources in just a click or two on a Chromebook. The menu presents your currently available options and makes redirecting audio a breeze.
FAQs
Can you change audio settings on a Chromebook?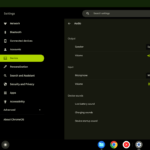 Yes, you can change audio settings on a Chromebook. You can adjust the volume, switch device sources, and device sounds through the Audio settings page. To access this, open the Launcher > Settings > Device > Audio.
How do I connect external speakers to my Chromebook?
You can connect external speakers to your Chromebook via the 'audio output' port, which could be a headphone jack or a USB-C port, depending on the model. Once connected, open the 'Settings' menu, select 'Audio', and set the external speakers as the default output device.
How do I get Sound through HDMI on Chromebook?
To get sound through HDMI on a Chromebook, ensure the Chromebook is powered on last and that the audio is not muted. If you're still having issues, try restarting the Chromebook or swapping out cables.
How do I change the output display on my Chromebook?
To change the output display on your Chromebook, select the time at the bottom right, then select Settings. In the "Device" section, select Displays. From here, you can adjust your Chromebook screen, select the name of the monitor, and make changes to the display size, orientation, resolution, and refresh rate.
What if my Chromebook isn't outputting any audio at all?
Check that the volume isn't muted and try selecting a different output device. If you still don't hear audio, try rebooting the Chromebook or checking for driver issues.
References