Sometimes Avast can be annoying. It blocks your favorite websites, prevents some programs from running, or interrupting your gaming experience.
Although it runs automatically once the computer boot up, you can close Avast antivirus on your own without uninstalling the program.
So, how to exit Avast antivirus on PC?
WARNING: Closing Avast will be left your computer unprotected. Only proceed if you understand the risk. You can always enable the antivirus once everything has done.
How to close Avast antivirus
Time Needed : 3 minutes
In this tutorial, you will learn how to close Avast antivirus by disabling its self-defense feature. That way, the program could be killed via Windows Task Manager and only run when launched by your self.
Right-click on Avast system tray icon and then Open Avast user interface.

Click on the Menu.

Select Settings.

Select Troubleshooting.

Click on the Enable Self-Defense checkbox. We are going to disable this feature.

Select OK for confirmation. After this, Avast is free to close.

Right-click on Taskbar and select Task Manager.

Find Avast Antivirus, and click End task to kill the process.

The Avast icon should not appear on the system tray menu. This suggests the program has completely be taken out from the background program list.
Prevent Avast from running from startup
Once the self-defense mode was diactivated, you can also prevent Avast from running from startup. That way the startup process could be accelerated significantly.
In order to disable Avast from startup, go to Task Manager, locate the AvLaunch component, and click Disable.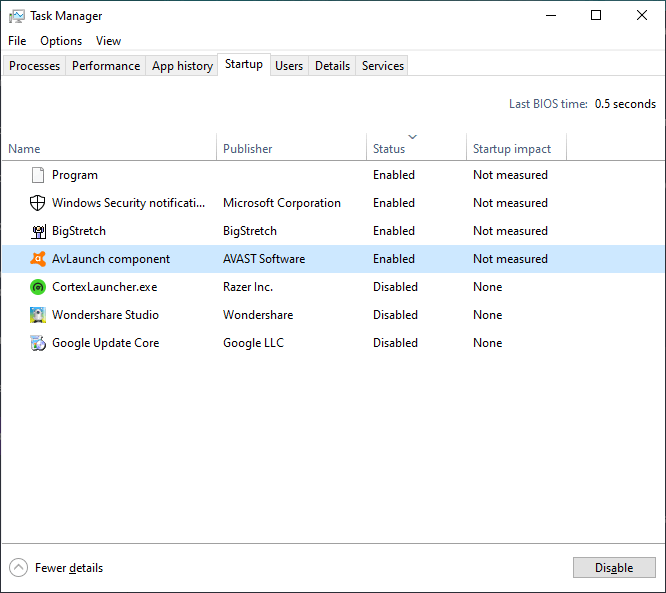 Please keep in mind, you can always run Avast anytime you want. By applying the settings above, Avast will now act like a normal program rather than an antivirus program.
Not sure? Just disable Avast shields
Removing Avast from the background program is a risky move. If you not sure and only want to prevent Avast from interrupting your activity, just disable all of its shields feature.
To disable Avast shields, right-click on the Avast system tray icon, hover to Avast shields control, and choose how long you want to disable the shields. Finally, click OK on the confirmation window.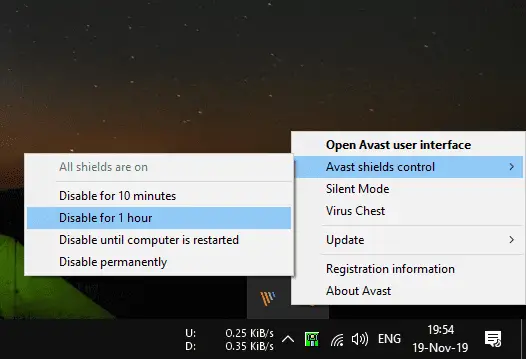 This method has the same effect as closing Avast, but it keeps the program running and you can easily turn it on again once everything is done.
---
So, that's how to close Avast antivirus. If there's anything you want to ask, feel free to post it to the comment section below!