Chromebooks are generally produced to be as affordable as possible. Hence, nearly all users from every segment can use the device for their daily activities. But doing so means the manufacturer has to trim down their offering, most notably on the storage capacity.
It's not uncommon to find Chromebooks with 64GB or even 32GB of storage in the era of 1TB+ Windows laptops. This drives users to look for ways to increase the device capacity, like adding an SD card, portable SSD, and the good ol' USB drive. But then, how do you use the drive on your Chromebook?
In this guide, you will learn how to access a USB drive on a Chromebook and other things you could do with it. Let's check them out!
How to access the USB drive
1. Plug in the USB stick to a corresponding port on your Chromebook. Depending on the device model, you might need a USB adapter or docking station.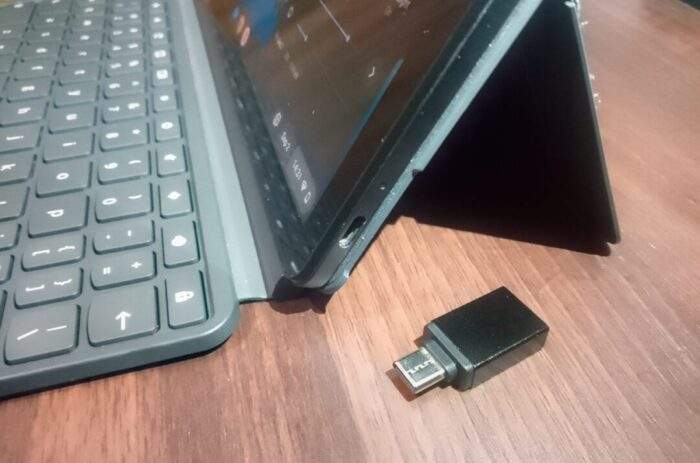 2. You may see this message on the Chromebook screen. Click Open Files app.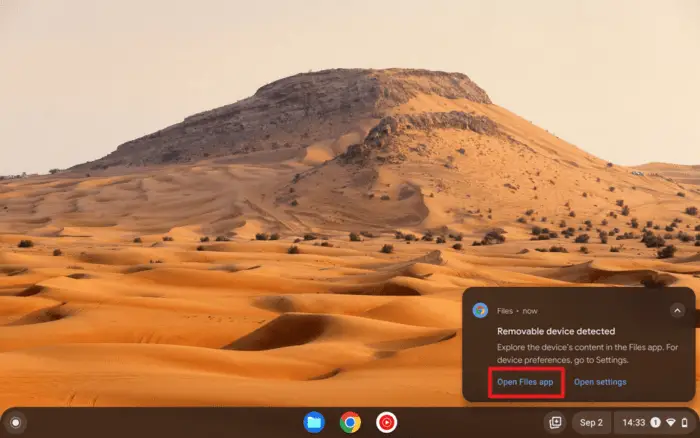 3. Alternatively, you can open the app manually via Launcher > Files.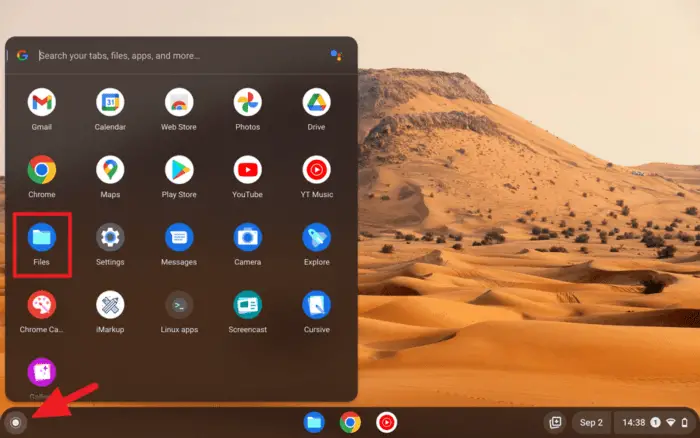 4. Once launched, the USB drive name should be listed on the left panel. Click on it to browse.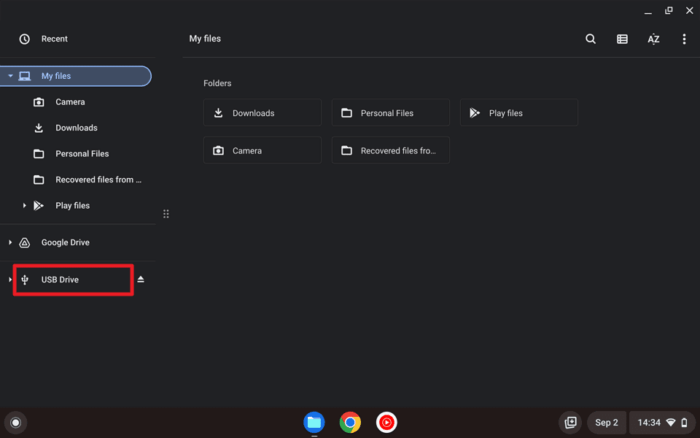 5. Here, you can see all the files that are stored in it.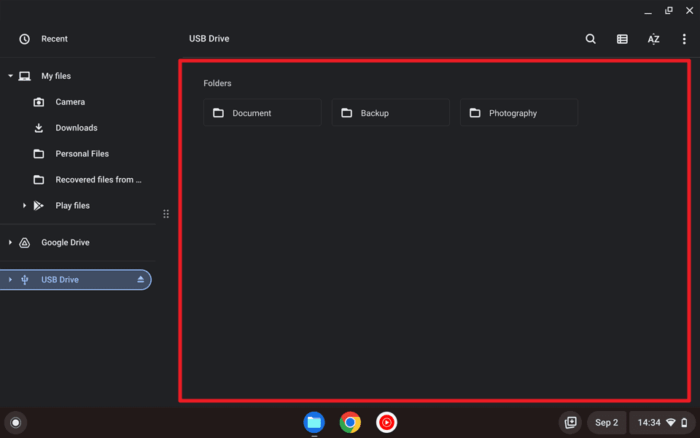 How to manage files in the USB drive
There are a lot of things you can do once the drive is connected to the Chromebook. Here I will cover some of the most common things to do when it comes to managing files.
#1 Selecting one or multiple files
To select a file, you can just click the file name to get it highlighted. But if you want to select more than one item, press and hold the Ctrl key on the keyboard, then use the mouse to click on each file you want to be included in the selection.
Alternatively, hold the Shift key and click files on each end to quickly select all items in between. It might be a little confusing at first, but you will eventually get used to its behavior.
#2 Copying and pasting files
Right-click on a select file(s), then select Copy (or press Ctrl+C). Then, navigate to the destination directory where the file(s) will be placed. Right-click again and select Paste (or use Ctrl+V).
Some Chromebooks don't have a specific right-click button. Therefore, you need to tap the touchpad with two fingers simultaneously. I have made a guide on how to right-click on any Chromebook (mode).
#3 Deleting files
Select the files you want to remove, then click the trash icon at the top. After that, confirm the action by clicking on the Delete button. Keep in mind that there is no "Recycle Bin" on ChromeOS, so deleted files are permanently gone. Recovery apps may help but won't guarantee full recovery.
Ejecting the USB drive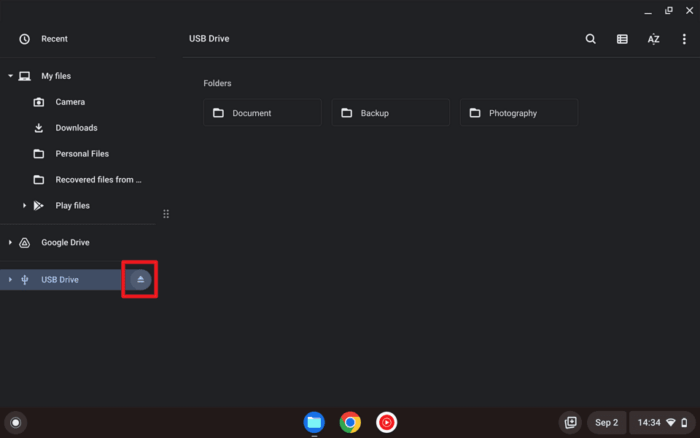 After you have done the USB drive, don't unplug it right away. Make sure to always click the Eject icon before detaching the drive. This will ensure no data loss between devices, especially if both devices are in the middle of a file transfer.
Also, this mechanism isn't exclusive to a USB stick. Storage media like a portable SSD, SD card, and other USB-connected storage devices must be ejected safely. So, make sure you remember this advice in the back of your mind.
FAQ
Why isn't my USB showing up on my Chromebook?
There could be a few reasons for this. First, the USB plug or port might be damaged. Check with a different USB drive to verify the problem. Secondly, make sure the drive uses supported formats like FAT32, exFAT, or NTFS.
Where is the USB icon on a Chromebook?
The USB icon can be found on the left panel of Files. It may show the USB drive name as well as the "Eject" icon next to it to safely remove the drive from the Chromebook.
How to play video from a USB drive on Chromebook?
You can play a video from USB normally. However, the USB speed may limit what types of video you can play directly from it. For example, a 4K video may need a faster transfer protocol in order to play smoothly compared to a regular 1080p video.