Just like any other operating system, Chromebook does collect and store cache. Despite its usefulness, it actually harms the device's performance in the long run. Certain apps will take an incredibly long time to load and the cache will consume the storage space that otherwise could be used to store more important files.
That's why deleting cache regularly is a good practice to keep the device on an optimal level. However, unlike say, Windows 10, Chrome OS doesn't have a dedicated menu or program to delete the cache. So instead, we have to take an unconventional approach by using the Chrome browser.
How to delete cache on Chromebook
As mentioned above, Chrome OS and Google Chrome are tightly integrated, meaning some settings and customizations are fused together. What I'm trying to say is deleting cache on Chromebook is the same process as on the Chrome browser.
In case you don't know, here's how.
1. Go to the app list and launch Chrome.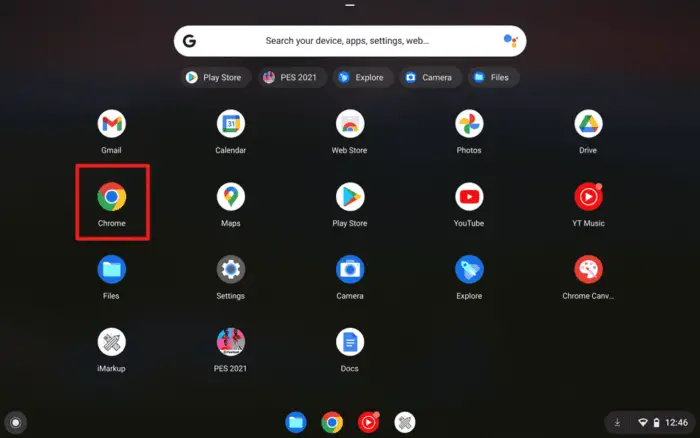 2. Click the three-dot icon on the top right corner, then select Settings.
3. Navigate to Privacy and security and locate Clear browsing data.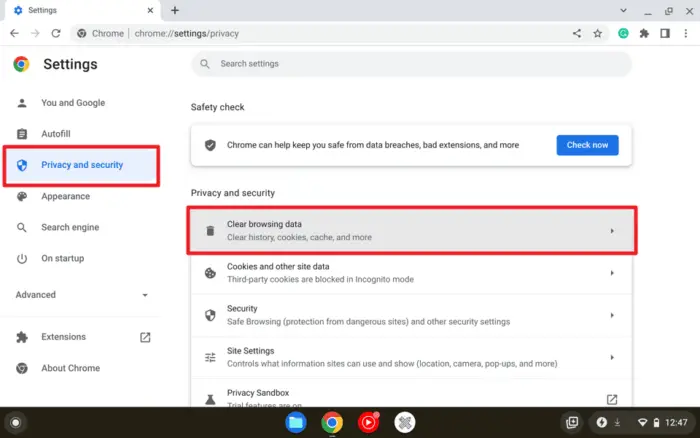 4. Select the time range of the stored cache you want to purge.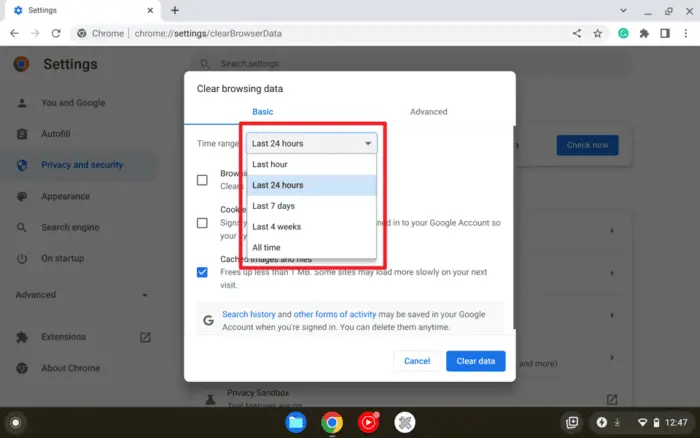 5. Tick Cached images and files. You may leave the rest unchecked. Finally, click Clear data.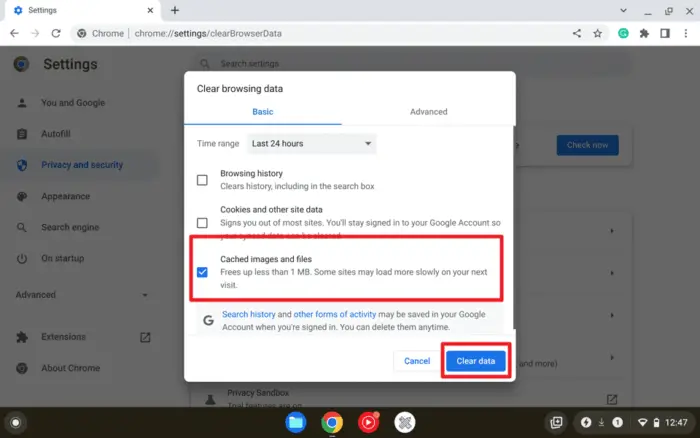 How to delete app cache on Chromebook
Other than the system cache and browser cache, each installed app on Chrome OS would also stockpile its own cache. It's safe to remove as it will rebuild again as you are using the app. This is how to delete the app cache on your Chromebook.
1. Open the app list by swiping the shelf.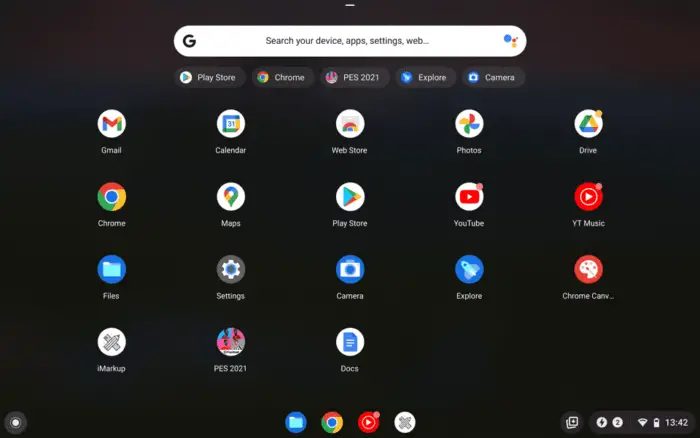 2. Right-click on an app and select App info.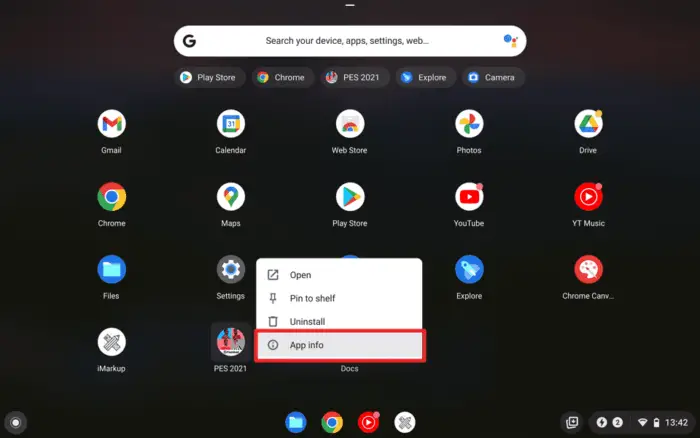 3. Next, go to More settings and permissions.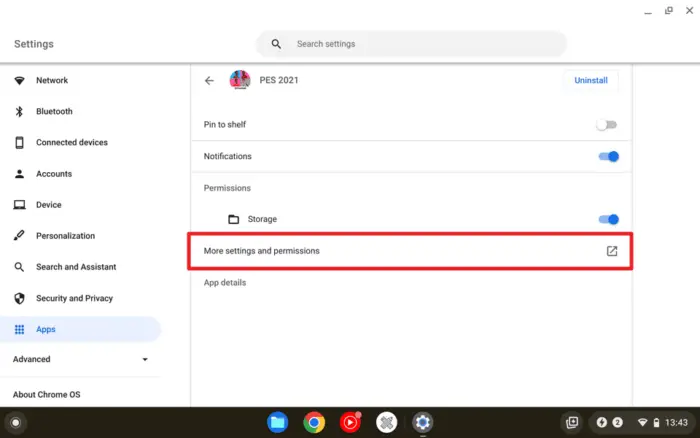 4. Open the Storage menu.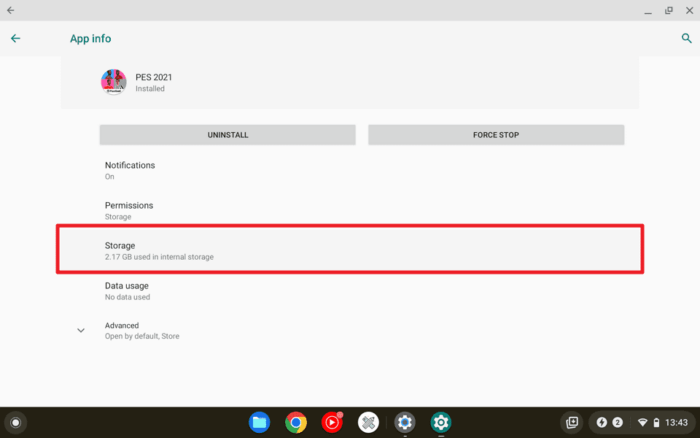 5. Finally, click Clear Cache to start cleaning it.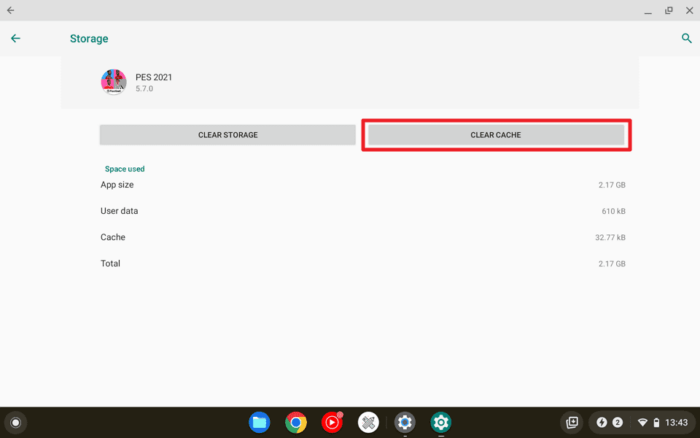 If you want to use your Chrome OS device without it storing cache especially when browsing, consider employing one of these tricks to stop Chrome from storing cache.