Every phone in the last decade is featured with a USB connection to connect with larger machines, such as desktop PC and laptops. The USB connection considered the most convenient way to transfer files.
Phone manufacturers ship the product including the USB cable. Meanwhile, the modern smartphone mostly combines the USB cable with the charger to reduce the price.
Lucky for you, connecting the phone to the laptop is a pretty simple and not difficult task. So, how to connect the phone to a laptop with a USB cable?
How to connect a phone to laptop with USB
Plug in the USB connector to your phone and the other side, plug in the USB to laptop or desktop computer. The phone immediately shows options about a mode during the connections, either charging only transfer files, or MIDI.
A short explanation of 4 major modes when an Android phone connected through USB:
Charging: The phone will receive power from the laptop, but cannot access the file. The charging progress usually slower because it's not a charger adapter.
Media Transfer Protocol: Or commonly called MTP for short is a protocol to transfer any type of files both from laptop and phone.
Photo Transfer Protocol: This is an alternative way if in case MTP doesn't support. However, only the photo file format can be transferred through this connection.
MIDI: Mainly for connecting phone to the musical instruments, not a computer.
If you wanted to transfer files from phone to laptop or vice versa, please select Media Transfer Protocol.
What if the phone unable to connect to the laptop?
Try to wiggle the USB connector from both sides. This will help pins inside the port to be connected properly. Also, make sure you are not using an old USB cable, it may be rusted and not working as it should be.
You may use your friend's cable or laptop to see if it still work. If your USB cable was damaged, try to invest in a reliable USB cable that can last longer.
If the laptop has no Standard USB-A port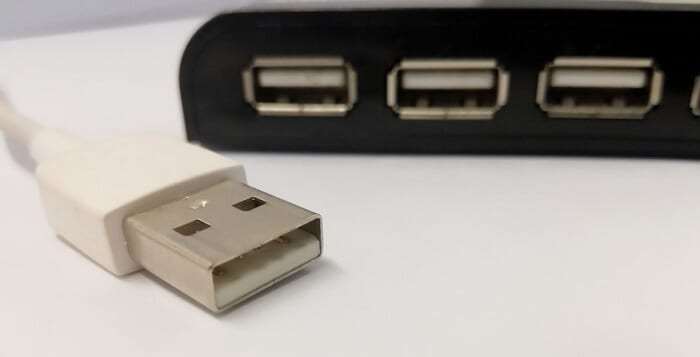 A laptop, in general, has a standard USB-A port. But in recent years, laptop makers are trying to reduce the weight and thickness of the laptop. Hence, some modern laptops shipped with only a USB-C port and remove traditional USB-A.
If your laptop only provides USB-C, you need a USB OTG to bridge the standard USB-A to USB-C. I've published a buying guide for USB OTG for Android phones. The one that I highly recommend is FlePow Multiport Adapter with massive seven different ports that would be helpful in most scenarios.