It is not convenient when you are in the office leaving your computer unlocked and letting people see everything inside the device. The solution is by locking Windows 10 every time you away from the keyboard.
Windows 10 came up with a sophisticated feature named Dynamic Lock where it will lock itself when you are not using it.
You don't have to buy special hardware or software. All you need is Windows 10 device and Android phone with a Bluetooth connection. This way, the computer will detect when you are away with your phone.
TIPS: It is highly recommended to run the latest version of Windows 10 to get Dynamic Lock.
How to automatically lock Windows 10 using Android phone
Time Needed : 3 minutes
By the end of this tutorial, you will know how to connect your Android phone to Windows 10 via Bluetooth and enabling Dynamic Lock so the computer will lock itself when you (and your phone) are away.
Go to Start Menu and launch the Windows Settings.

Select Devices.

Turn on the Bluetooth connection. This should work for both internal Bluetooth or external (USB).

Then, Add Bluetooth or other device.

Select Bluetooth. At this point, you have to turn on Bluetooth on your Android phone.

Once detected, select your phone Bluetooth name.

Pair your phone with the computer and click Connect. On some occasions, you probably have to hit Pair and Connect at the same time.

Now the computer has recognized the Android phone. Windows is finishing up the installation in the background.

Go back to the Windows Settings and select Accounts.

Locate Sign-in options, and on the Dynamic lock section, mark the Allow Windows to automatically lock your device when you're away checkbox.
Tools
Windows 10 computer/laptop
Android phone
Now your computer will automatically lock when you bring your phone far enough. Please keep the Bluetooth connection for both devices turned on to use the feature.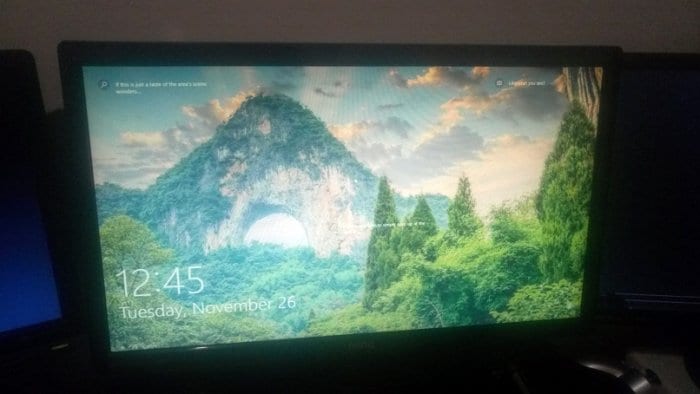 However, there are some drawbacks
Despite being secure, Dynamic Lock has some issues that would affect your experience when working. These are some problems that I discovered when this feature is on.
The Bluetooth speaker stopped playing after a few seconds — I still able to connect to the Bluetooth speaker, but the music I played always stop unintentionally. Apparently, the PC has to "ping" my phone every several seconds to track its location which causes interruptions with other Bluetooth devices.
The computer stays locked when you back — Unfortunately, Dynamic Lock only locks the computer when you are away, but not unlock it when you come closer to it.
You cannot set the distance — How far exactly until the computer will lock? You will never know and you have no option to set the distance.
Despite these issues, Dynamic Lock could be the best method for you to keep your computer and its data safe from unauthorized access.
Other than that, there is also an automatic locking system that will lock the computer by a timer. Check out my previous guide about How to Lock Windows Automatically When Not in Use.