Running out of server storage? The most straightforward way to the solution is purchasing a more expensive package to accommodate the ever-growing database. Sure, it's easy and anyone with enough pocket can do that. But sometimes, upgrading the server for the sake of bigger storage may not be worth it.
Instead, we can just buy new storage while retaining the same CPU and RAM power. This is pretty much what Cloudways offer on their Block Storage feature.
I tried and couldn't be happier. You might want to use Block Storage too.
Note: I'm using a DigitalOcean server which according to Cloudways the process of adding block storage is more or less the same with other providers. For further information, look out for the details here.
What you need to know before proceeding
Frankly, I almost give up when trying to understand the concept of Block Storage on Cloudways and almost choosing the traditional 'server upgrade' method.
The help article isn't so clear and the customer support is kind of vague. But after discussing with their technical & billing team through a support ticket, I gathered some very important information you need to know before adding new Block Storage to your server.
So, here's the list:
The pricing per 1GB is $0.10/month (for DigitalOcean)
All applications data will be moved to the new Block Storage
The default disk storage will be inacessible
The default storage will only store server operating system (about 7GB)
You still have to pay the full price of the server even though you cannot use the default storage
No need to point websites to a new IP
For example: I own a server, costing me $10/month with 25GB of default storage. Currently, my website consumes 13GB, combined with 7GB of the operating system, they occupied 20GB of storage.
So, I attached 50GB of Block Storage. My 13GB website is moved to 50GB Block Storage while the 7GB operating system file remains in the default 25GB disk. The total usable space is 50GB, not 75GB. I still ended up paying $15/month.
I hope the explanation above was easy to digest. Should anyone be interested, here's how to attach Block Storage to your server.
How to attach Cloudways Block Storage
1. Go to the Server > Vertical Scaling > Block Storage.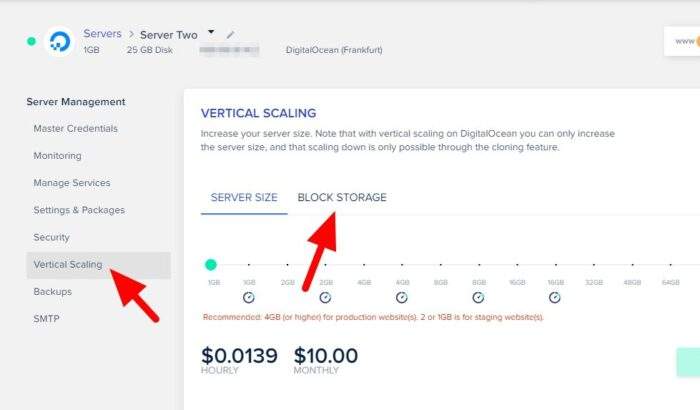 2. Tick Attach Block Storage, then choose the capacity, and hit Attach Now.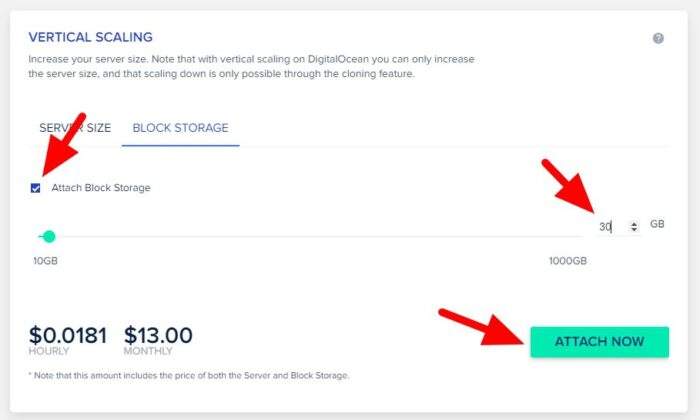 3. You will see a prompt box with some important notes. When you are ready, click Proceed.
4. Wait for the process to finish. Usually will take somewhere between 10-30 minutes. Applications within the server may experience downtime.

5. Once finished, you will notice that instead of 'Disk', it starts using Block Storage.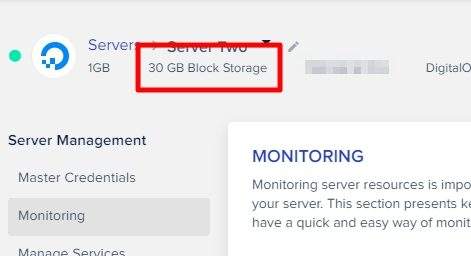 After Block Storage is attached, you really don't have to change anything else. Everything will be just the same, except for roomier storage.