Thanks to the advancement of digital camera technology, we know can experience the highest picture fidelity right on our smartphones. But it has its own drawback. Higher resolution pictures introduce a new problem to the local storage management.
On a typical photo, you can expect the size ranging between 3 to 5 megabytes. Premium smartphones may go beyond 20 megabytes for a single snap.
Uploading photos to cloud storage, using external storage, and deleting unused photos are a few solutions to combat the storage problem due to the overwhelming media size. But there is another solution that lets you keep all the photos right on your device while consuming less storage capacity.
Photo compression is a way to reduce the overall file size but still maintaining the same resolution and quality. Admittedly, there will be a very small drop in quality but it's extremely unlikely anyone can spot it. So, it's safe to say that these free photo compression services could fix your problem.
I tried several online photo compression services and I found the top five which I think offers the best compression rate. The test was using a picture and the goal is to see which services have the most reduction.
#1 TinyJPG, the best compression tool for JPG and PNG files
57% reduction (from 4,80 MB to 2,04 MB)
TinyJPG (TinyPNG) is my favorite tool when it comes to compressing high-resolution photos significantly without noticeable loss in quality. In most cases, the service could reduce somewhere between 30% to 50% and on many occasions may go past 70%. The compression process is probably the fastest among other options and you can process multiple files in one click.
How to use TinyJPG to compress photos:
Visit TinyJPG.
Click on the Drop your files here! area.
Select the images you want to compress.
Wait for the upload and compression process.
Click download or Download all for multiple items.
#2 Compress photos with various customization on Compressor.io

50% reduction (from 4,80 MB to 2,35 MB)
If you willing to take sometime to adjust the output quality of any given compression, then Compressor.io is probably the best bet. Sure, it does offer an instant compression, just like TinyJPG, but it has a customization feature that lets you choose between lossy and lossless, JPG quality, PNG quality, and WebP quality. For anyone need beyond that, the premium version unlocks additional features, such as, resizing, change orientation, rename, keep EXIF data, and more.
How to compress photos with Compressor.io:
Head to Compressor.io.
Klik on Select files.
Select a photo or multiple photos.
Wait for the process to finish.
Click Download or Download All for multiple photos.
#3 Image Compressor, simple but slightly customizable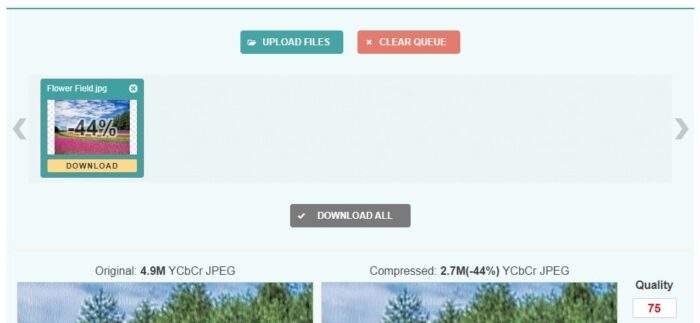 44% reduction (from 4,80 MB to 2,69 MB)
Image Compressor by Optimizilla is relatively simple in terms of interface and capabilities it has. You may upload multiple files and compress them in one click and get the result in an instant. But the service lets you choose the compression level between 10-100 with the default value of 75. Once the reduction finished, it will show you a comparison between the original file and the compressed one. If you are not happy, just clear the queue, adjust the slider, and start the compression again.
How to compress photos with Image Compressor by Optimizilla:
Visit the Image Compressor page.
Hit the Upload Files button.
Select one or more pictures.
Wait for the process to finish
Click Download on a corresponding item, or Download All for multiple items.
#4 Compress photos and PDF with CloudConvert

43% reduction (from 4,80 MB to 2,69 MB)
CloudConvert is a compression tool designed for productivity in mind. On the basic tier, it allows you to upload and compress JPG and PNG images for free. Or if the images are stored in a cloud service, it covers popular services like Google Drive, Dropbox, and OneDrive, again, for free. And whenever there is an overly large PDF file, CloudConvert can compress it too.
How to compress images with CloudConvert.
Go to the CloudConvert page.
Under the compress section, select between JPG, PNG, or PDF.
Upload/import files you want to convert.
Hit Compress.
Wait for it to finish.
Click Download.
#5 Reduce photo size with ILoveIMG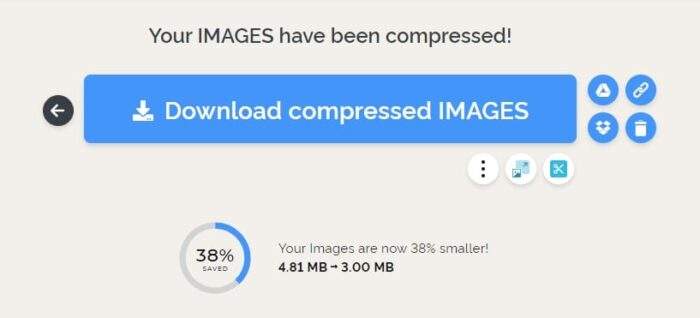 38% reduction (from 4,80 MB to 3,00 MB)
Despite being the last on the ranking list, 30% is not a bad number at all. On top of that, ILoveIMG has much deeper integration with other editing tools. For instance, a compressed photo can be cropped, resized, rotated, or adding a watermark without leaving the tool. Also, it supports third-party storage like Google Drive and Dropbox where you can extract the processed photos.
How to reduce photo size with ILoveIMG.
Navigate to ILoveIMG.
Click on Select images.
Hit Compress Images.
Wait until it is done.
Click Download compressed images, or export it elsewhere.
---
Each service has its own advantages and disadvantages, along with the technology used to compress a photo that implying different results in the quality. Regardless, most of them have a premium version with expanded functions and capabilities. If you really need a service like that, paying a little extra may be worth it.