It's safe to assume that most people these days use their smartphones to wake them up in the morning. And that's for a good reason. Since smartphones are often placed on a nightstand, they are easier to reach once you need to turn off the alarm.
However, as the portability increased, many Windows devices, especially tablets can be used as an alternative to the smartphone alarm as they consume much less power and can stay powered for days. Additionally, the larger screen that the device comes with would make it easier to manage multiple alarms.
In this guide, I will show you how to set an alarm on your Windows 10 device, whether it's a PC, laptop, or tablet.
How to set an alarm in Windows 10
1. Go to Start and find Alarms & Clock from the app list. You may also find it via the search section.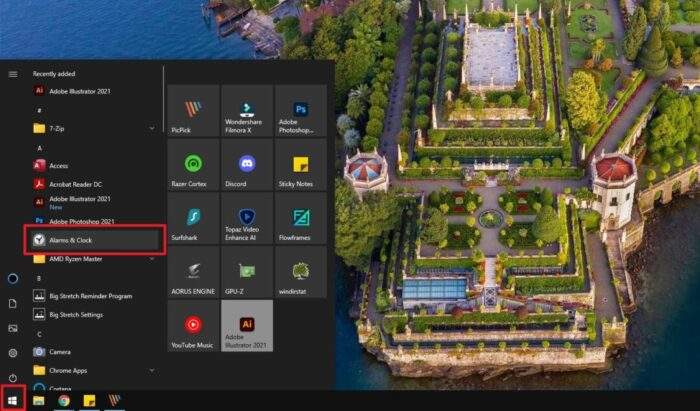 2. Then navigate to Alarm.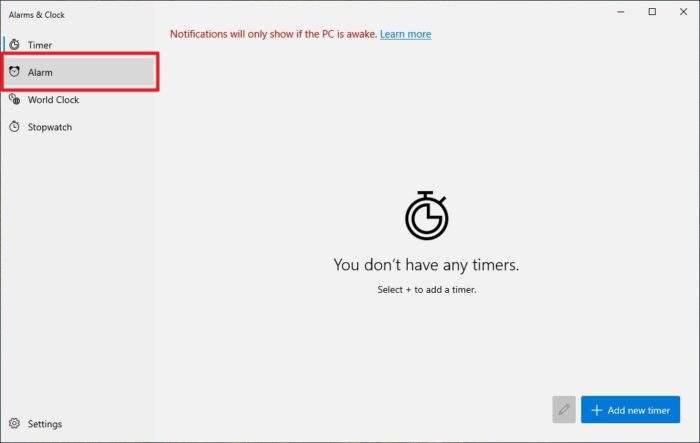 3. Click Add an alarm.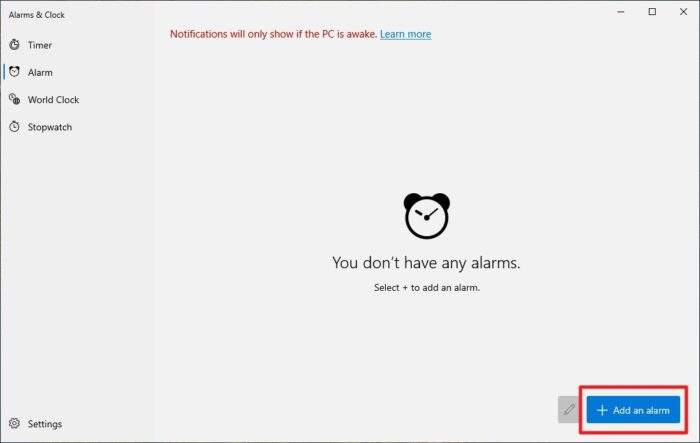 4. Set the time, name, schedule, ringtone, and snooze time of the alarm.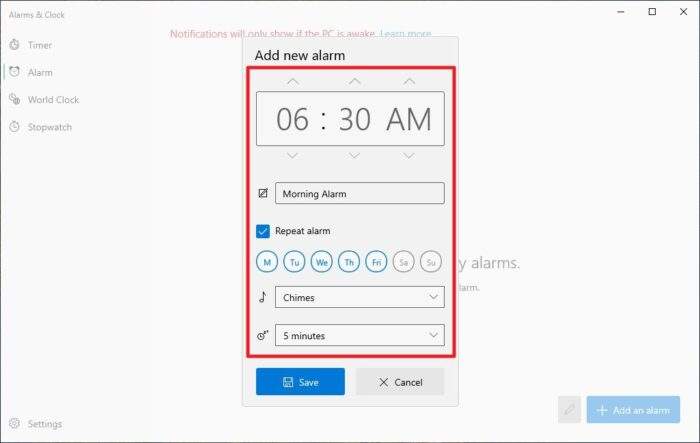 5. If everything looks correct, click Save.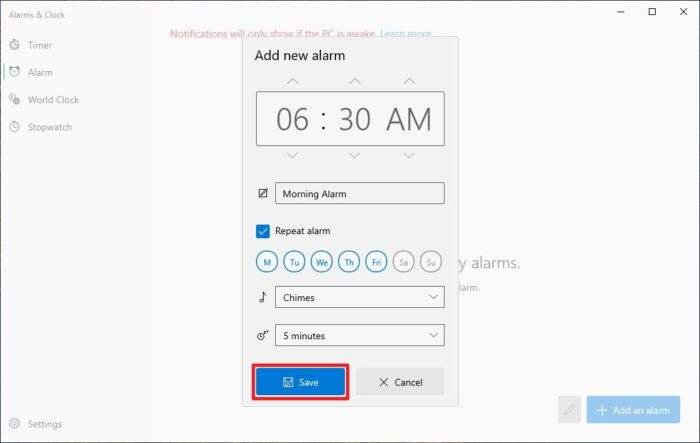 6. You have created an alarm on Windows 10. If you need to modify it, just right-click on the alarm to reveal more options.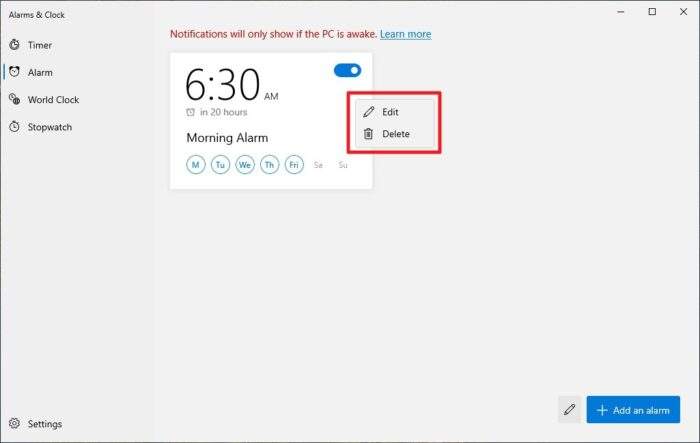 7. You can add as many alarms as you need. The app also doesn't have to run all the time. Feel free to close it as it will remember your settings in the background process.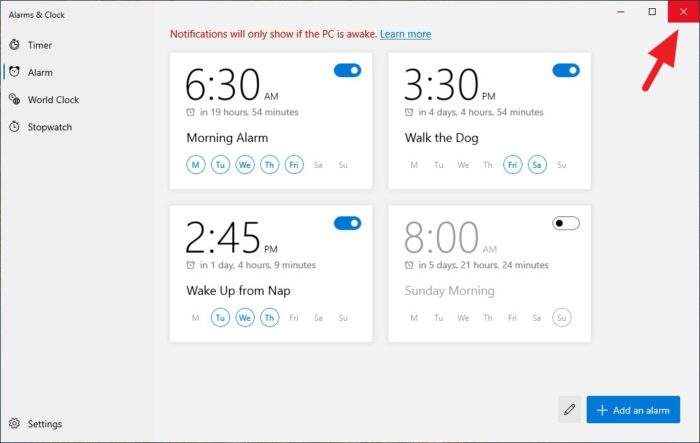 8. When the alarm goes off, you will have options to Snooze or Dismiss to stop it.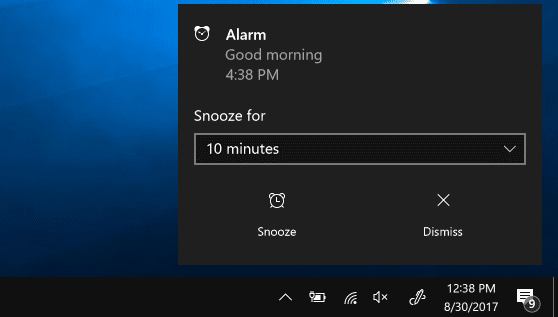 How to make sure the alarm will ring
One main requirement to remember is that the alarm needs the device to stay on. Furthermore, there are a few checklists you need to go through to make sure the alarm will go off when it is supposed to.
Let's run through the checklists below.
1. Do not set the device to sleep
To save power, Windows will be put into sleep when not in use (idling) for a certain amount of time. This protocol unfortunately freezes the background process where the alarm is operating.
To prevent the device from falling asleep, go to Start > Settings > System > Power & sleep. On the 'Sleep' section, set it to Never. The 'Screen', on the other hand, can be turned off without affecting the alarm.
2. Be sure that the alarm notification is turned on
By default, nearly all apps on Windows can show you notifications when deemed important. But in case you ever modify the settings, you may want to check if the alarm is muted.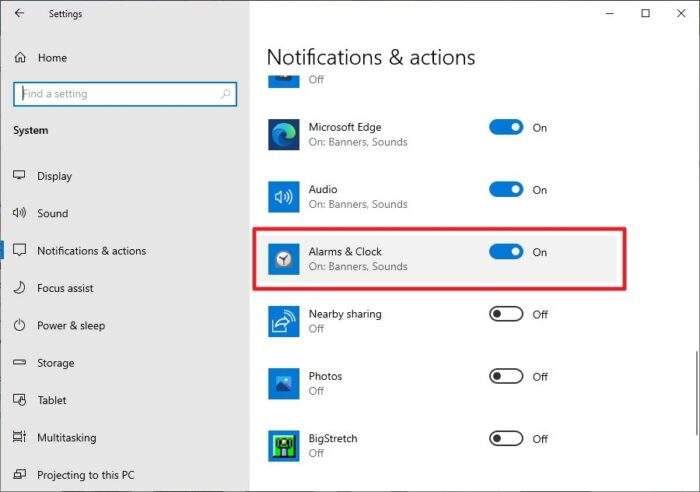 To see the alarm notification setting, navigate to Start > Settings > System > Notifications & actions. Find Alarms & Clock and be sure that it is On.
Furthermore, there are a few extra customizations you probably want to check out if you click the app name from the list.
3. Set the volume to be loud enough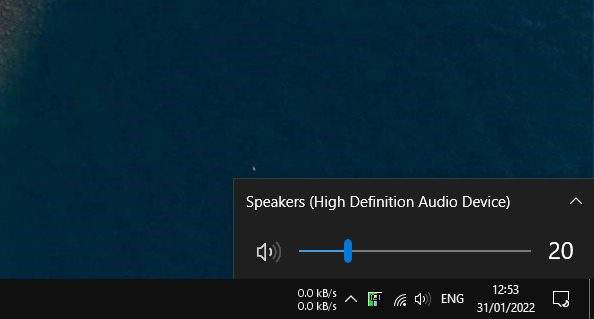 The alarm volume depends on the default speaker volume of the device. Please increase the volume to the level that will trigger you to wake up from a deep sleep.
If the built-in speaker wasn't loud enough, consider using an external speaker with a more powerful output. No need to invest in an expensive speaker setup, a handful of quality Bluetooth speakers are quite affordable and would suffice your need.
4. If needed, keep the battery plugged in
As outlined earlier, alarms on Windows 10 can only work if the device is powered on. If it hibernates, sleeps, or shuts down due to lack of battery power, the app responsible for scheduling alarms won't work thus drawing the alarm settings you set in the first place.
If you are not confident that your portable PC can survive throughout the night, plug in the charger and keep it that way until you wake up.
Sure, it's probably not a healthy habit for the battery as prolonged recharging increases input voltage and reduces its actual capacity over time. But doing it just once in a while should not do much harm.