Knowing the computer's monitor specification is very important. It could dictate what operating system you can use, the graphics card you need, and what activities you can do with it, especially video games.
For example, a gaming computer may best be paired with a full HD monitor featuring a 120hz refresh rate. Other activities such as graphic design and video editing probably need a monitor with a wider color gamut and deeper contrast ratio.
Luckily, you don't have to read the user manual book. There are three options you could try to find out your monitor specs — all without installing additional software for Windows 10.
#1 Check the monitor specs online!
The easiest way to get a handful of information about your monitor is by searching it online. You can use a search operator like this.
"monitor brand" "monitor type" specs
I'm using BenQ VL2040AZ, so the keyword I need to get the information specs would look like this.
BenQ VL2040AZ specs
The monitor brand and type usually can be found on the front or backside of the monitor. Often enough the manufacturer's website would appear on the top result, providing detailed specifications and tips that may be useful.
#2 Go to Advanced Display Settings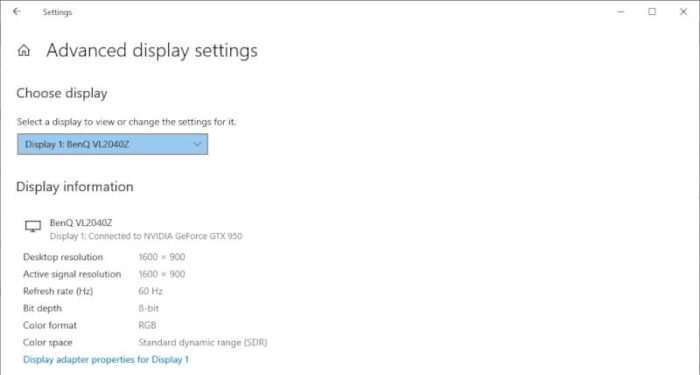 Another easy way to see the monitor's spec (and brand) is by using Windows 10's Advanced display settings.
Just go to Start Menu and search for Advanced display settings. Click on the first result to launch the program.
From there, you can gather some information, including desktop resolution, refresh rate, bit depth, color format, color space, and what graphics card is being used. It also lets you choose between displays in case you have a multi-monitor system.
#3 See detailed specs on System Information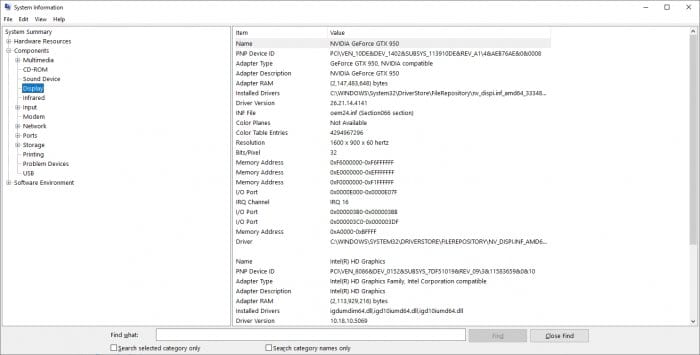 If you need an in-depth specs sheet regarding your monitor, then System Information might be the best place to find them!
Go to Start Menu
Find and launch System Information
Expand Components > Display
There are a lot of variables regarding the monitor and the graphics card. This information may be useful for technicians, engineers, and developers who need a deeper level of the monitor specifications.
You can export the information table by heading to File > Export > give a name > Save. The exported file is in the form of a TXT file.
---
If you are using a multi-monitor system, you probably want to keep the pointer on a specific monitor. Check out How to Lock Mouse to One Monitor in Windows 10. As always, thank you for reading!