Students have many tasks to complete, and digital tools are beneficial to your success in studying. Alternatively, online help could also be an option if you feel overloaded with homework. We recommend you to download our essay writer app and ask for assistance from highly rated writers to get your papers completed.
Or use this collection of the most interesting Android educative apps that can help users with their studying process and make it more interactive and motivating to not use it.
1. Duolingo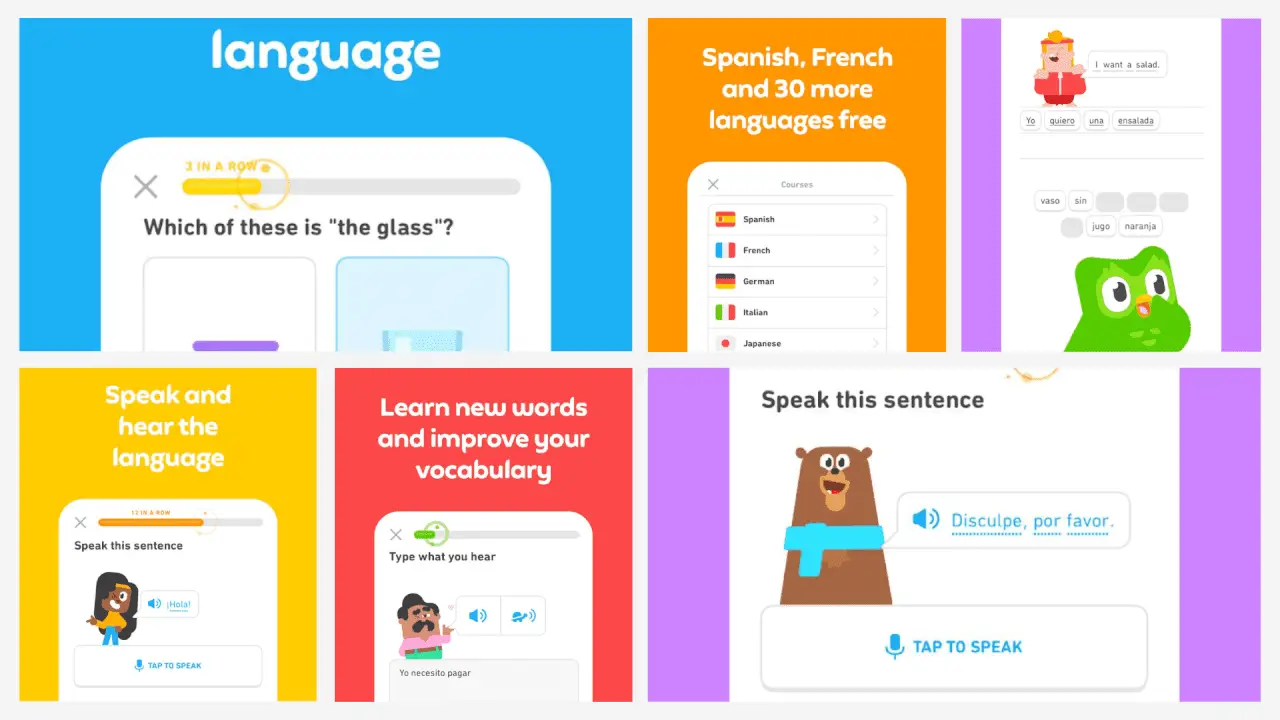 Age: 3+
Rating: 4.8 out of 5
Duolingo is one of the most popular apps for learning a language. It offers different language courses, from English and French to less commonly taught ones such as Swahili.
Its interactive lessons include exercises like translating sentences, listening to audio, speaking, and more. Developers created a gamification system of promotions for users.
They earn points and virtual currency in the app and compete with other users on leaderboards. Users can track their progress and see their daily streak. In addition, it has a community of learners who can interact through discussions, forums, and clubs, fostering a sense of community and support.
Duolingo offers a free version that covers the majority of its content. You can purchase a premium subscription to remove ads, access offline lessons, and get additional features.
2. Coursera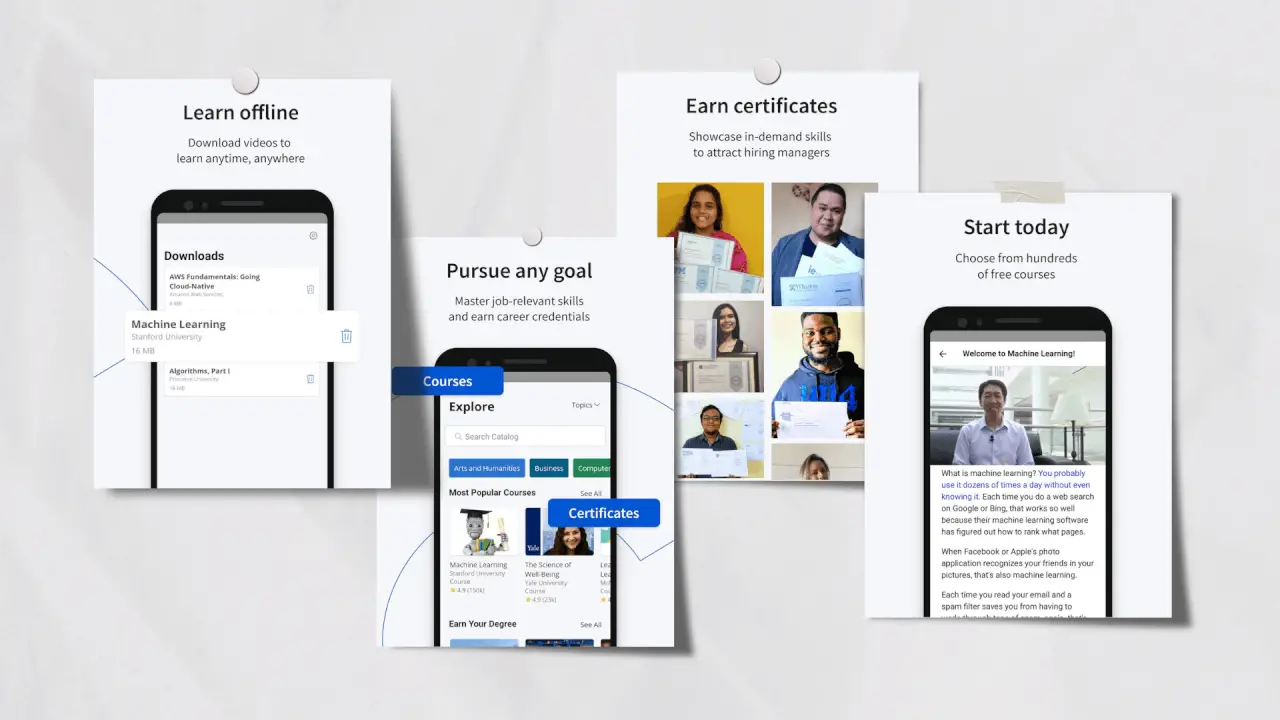 Age: 3+
Rating: 4.8 out of 5
Coursera is an online learning platform with an Android app that offers a wide range of courses, specializations, and even degree programs. All courses include video material by lecturers, submitters for different languages and assignments, quizzes for more interactive options, and better feedback.
The huge pro is the opportunity to get a digital certificate to add to resumes and LinkedIn profiles. If we talk about master's and bachelor's degrees, Coursera has a relationship with universities that provide full online programs in comfortable conditions. 
Most of the courses are paid, but it offers free ones without certification that can improve skills and meet various requests.
3. edX: Courses by Harvard & MIT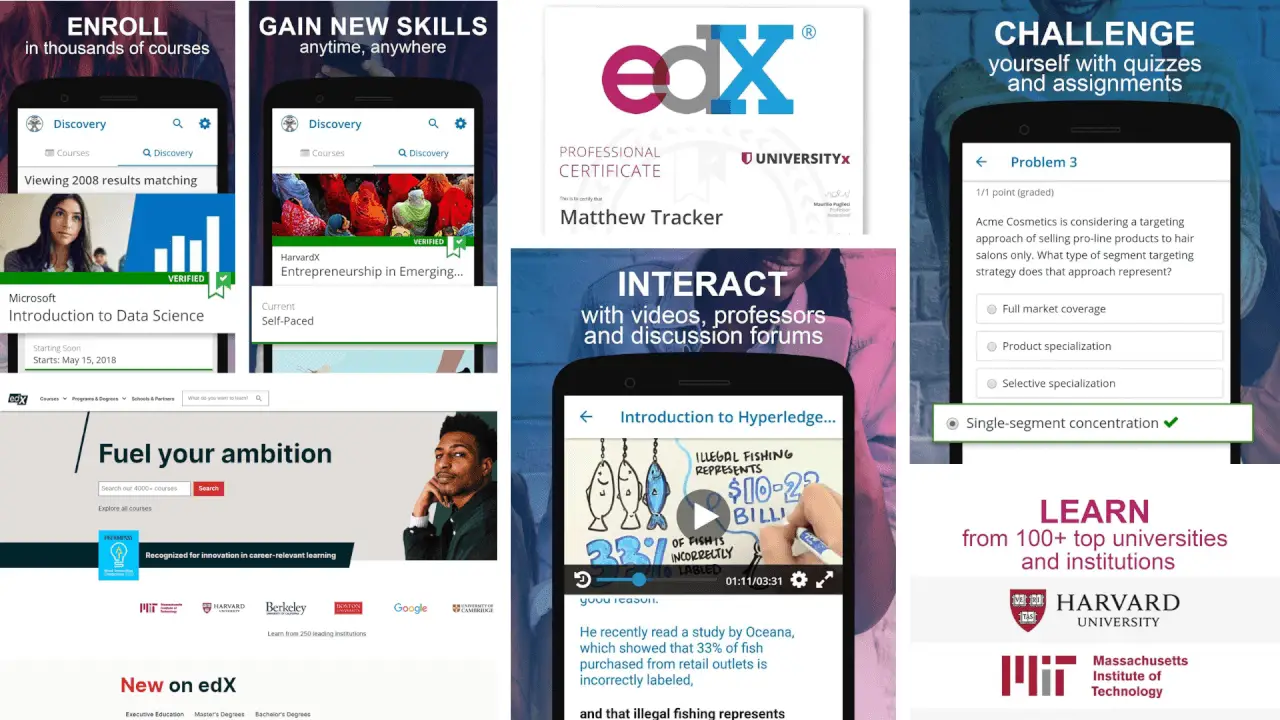 Age: 3+
Rating: 4.8 out of 5
EdX is similar to Coursera in terms of education programs and content. Here, you can find courses on computer science, business, mathematics, science, the humanities, and others. As the previous one, it includes video lectures, quizzes, assignments, and discussion forums to foster a dynamic learning experience.
edX partners with famous universities, like Harvard and Stanford, to provide learners access to high-level educational content. It also offers professional certificate programs and even full degree programs in collaboration with the previously mentioned university.
Many of the courses on edX are available for free. However, you can pay for a certificate if you want to demonstrate your results.
4. Khan Academy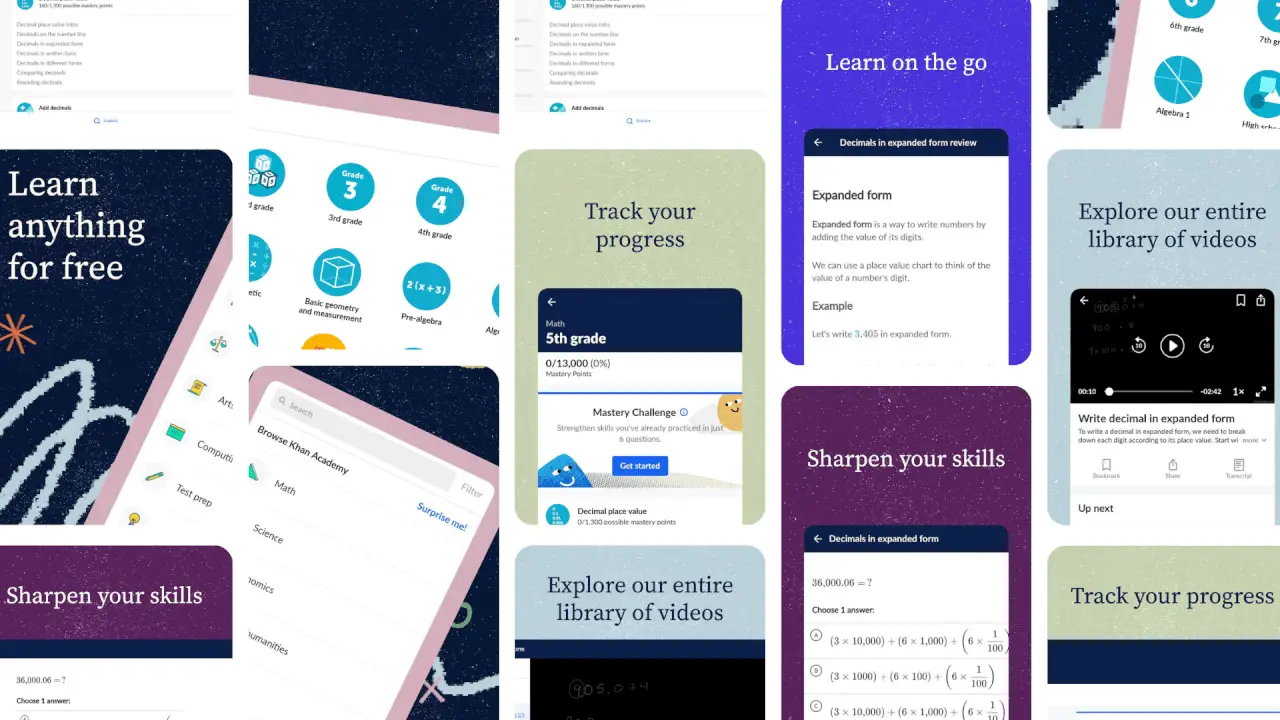 Age: 3+
Rating: 4.6 out of 5
Khan Academy is an educational platform and Android app that offers an extensive library of video lessons, practice exercises, and instructional content covering mathematics, science, economics, history, computer programming, and others. It proposes personalized recommendations, progress tracking, and feedback for correct and incorrect answers to help users understand their needs and progress.
One of the most significant pros is the opportunity to download video lessons, practice exercises, and learn them without an internet connection.
Khan Academy is free to use on any Android device. Also, the app offers test preparation content for standardized tests like the SAT, ACT, GMAT, etc. That is a huge pro. In addition, developers created a child version of the app called Khan Academy Kids for younger users.
5. Photomath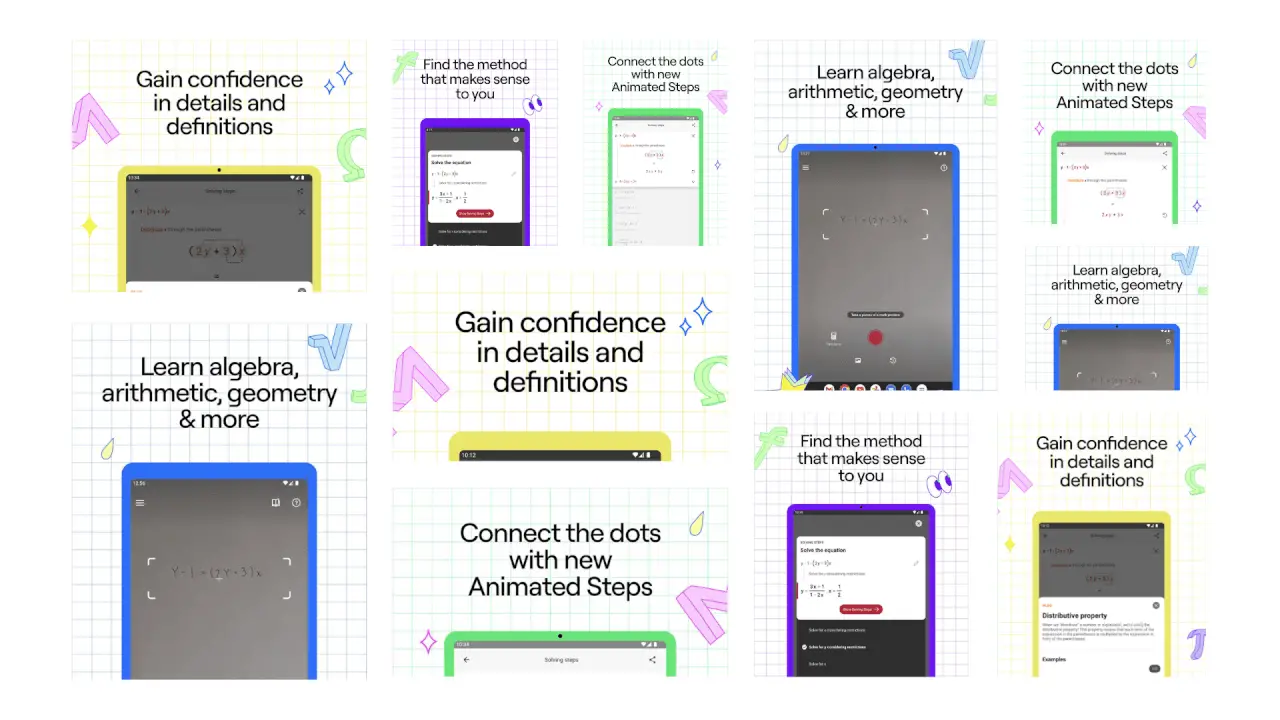 Age: 3+
Rating: 4.8 out of 5
Photomath app focuses on helping students with mathematics. Users using the device's camera can take photos of the math task, and the app will write step-by-step solutions. Photomath is excellent homework assistance because it provides immediate solutions and explains math problems.
This feature helps students understand the underlying topic. It can work without an internet connection. Also, it can be a valuable tool for test and exam preparation, helping students practice different math topics.
Basis features with step-by-step solutions are free, but if you want deeper understanding and implementations, you can buy Assess Plus.
6. Google Arts & Culture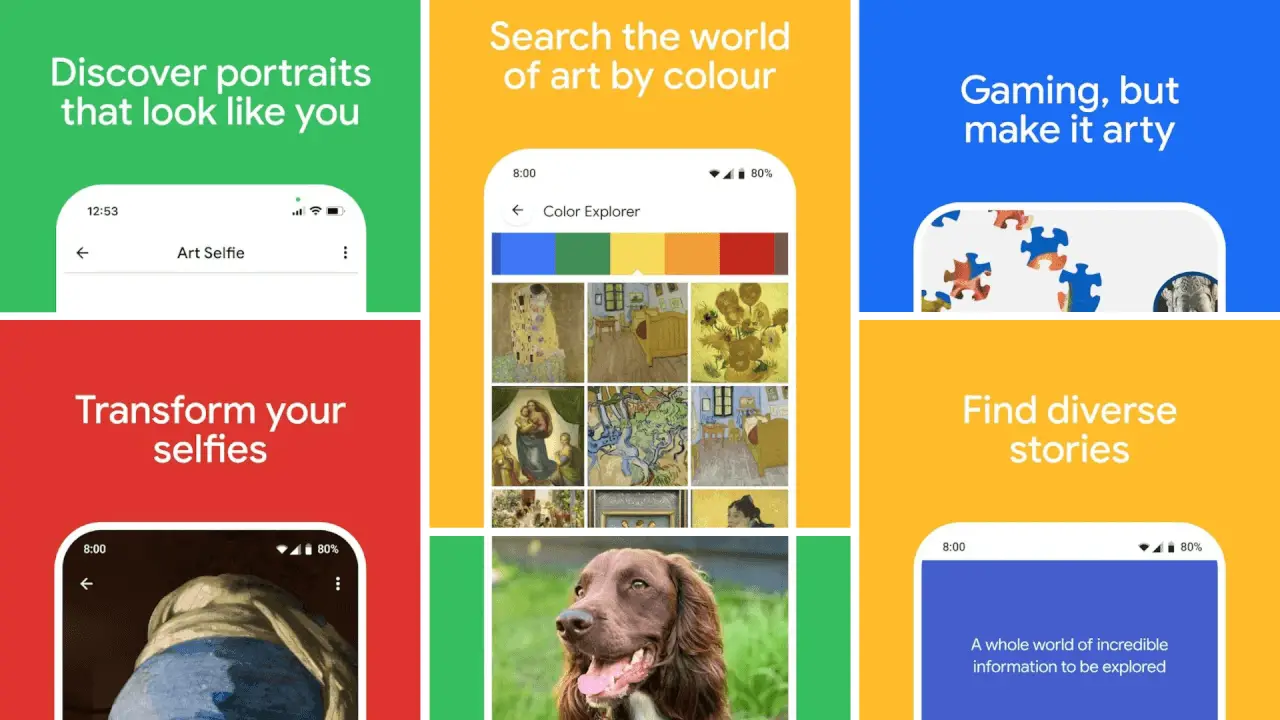 Age: 3+
Rating: 4.2 out of 5
The app provides access to a huge collection of artworks from museums and cultural institutions worldwide. Google Arts & Culture offers virtual tours of famous museums and heritage sites with 360-degree panoramic views. Besides, this free app provides educational content such as articles, videos, etc.
A great pro is the "Art Selfie" feature. When anyone can take a selfie, the app finds artwork that resembles the user's face. This and other interactive tours can make the education process more interesting. In addition, travelers can use the app to plan their museum visits, previewing what they expect to see.
7. SoloLearn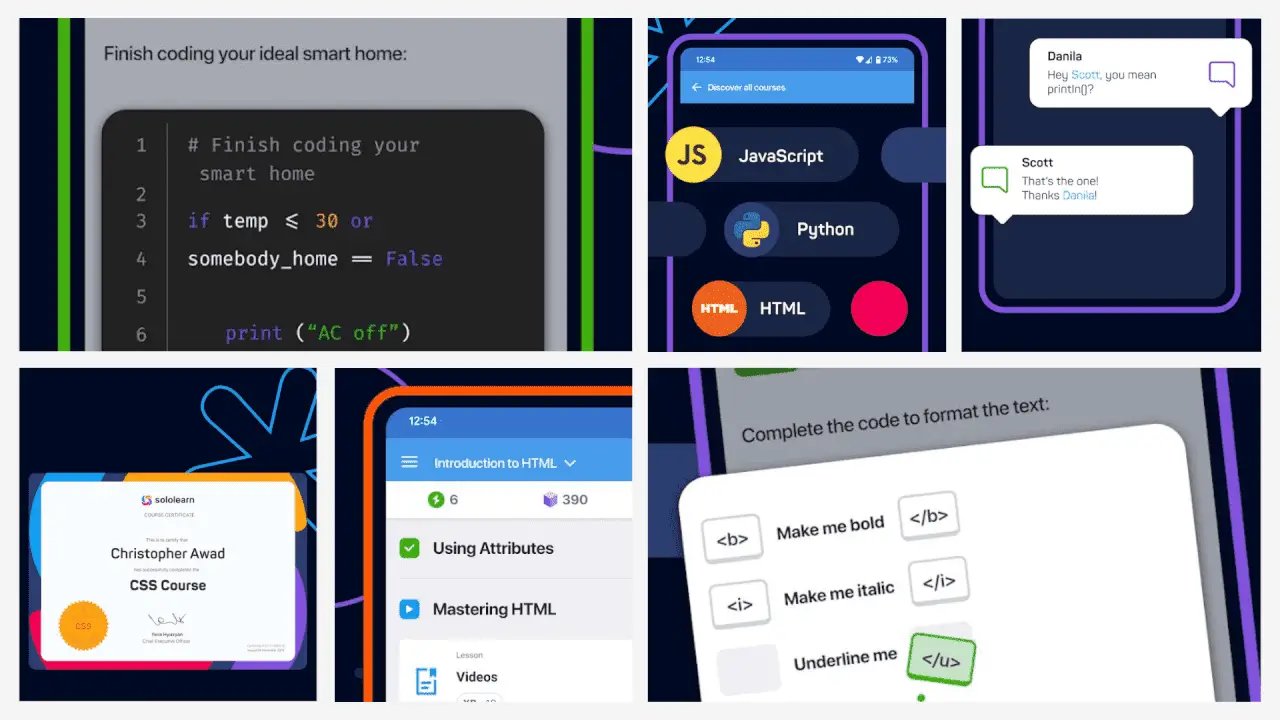 Age: 12+
Rating: 4.6 out of 5
SoloLearn teaches coding and programming languages to beginners and intermediate learners. It offers courses in a wide range of programming languages, such as Python, 
JavaScript, Java, C++, etc. It includes a built-in code editor where users can write, run, and test their code and get real-time feedback. There is a possibility to earn badges and certificates as users progress through the lessons and challenges, which improves the competition effect.
Besides, users who are more proficient in a programming language can explore freelance opportunities, taking on coding projects for clients.
The app and its main features are free, but you can buy an additional version with a month- or year-long subscription.
Afterall
The goal of completing this article was to show you that there are some great tools you can download and utilize for free, making the process of completing your tasks straightforward.
As you can see, utilizing the great Android educative apps provided in our article could be beneficial for students who learn different disciplines. By adding some digital tools to your educational activities, you can benefit from any task and sufficiently save time to do other activities you like.
We hope that you opt for some exciting apps for your use. Good luck!