Most of us have struggling to install the latest iteration of drivers that promises greater performances along with fascinating features. Yet the crucial reason why you should keep the driver always up to date is to prevent any crash or error during its operation. In fact, updating drivers are always to be a mandatory task for whole Windows operating system user, and Windows 10 isn't the exception.
Each PC has dozens of drivers and they're necessary for accommodate 'communication' between software and hardware smoothly. Using traditional way, in order to update driver software can be done from Device Manager and updating each driver one by one. In a meantime, Microsoft hasn't injected its tool to help users quickly install the latest form of the drivers all at once.
Fortunately, this gap has been filled by a third-party developer, IObit that allowing us to check up, download, and install necessary drivers on your machine effortlessly. Dubbed Driver Booster, it's acclaimed as the most reliable driver updater software that covers millions of driver. It comes with both premium and free version, but for me, the second option wasn't disappointing in terms to ensure drivers update.
How to Update All Drivers on Windows 10 at Once
Step 1
Download Driver Booster (free version) and install it. To avoid unwanted program, please select Custom Install during the installation process.
Step 2
Run the program and scan the drivers.
Step 3
Now you will see numbers of outdated drivers on the PC. Check the driver you want to update, then click Update Now.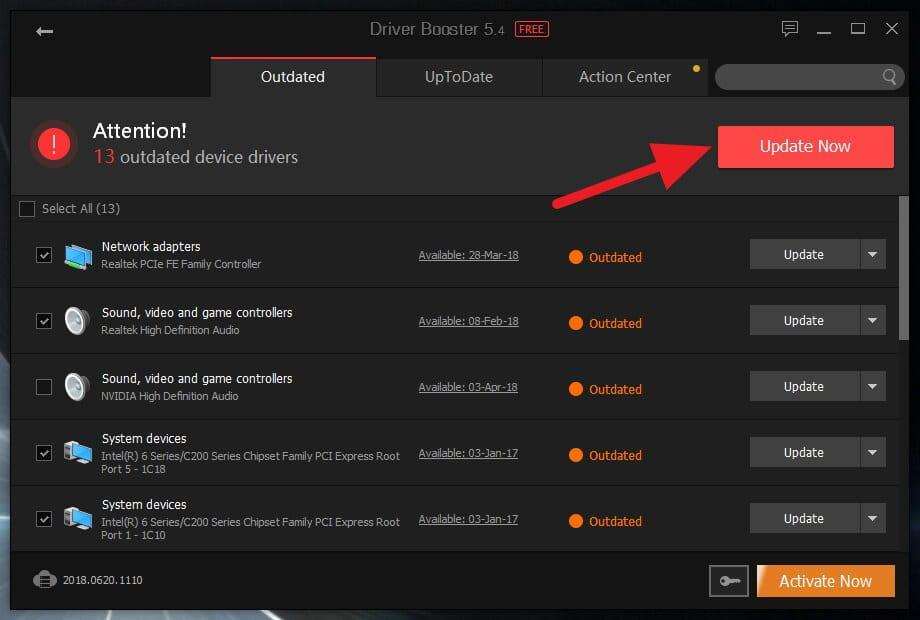 Step 4
The Driver Booster will download an perform installations immediately. I encourage you to not using the PC during the process since it may interrupt some system, such as the internet, display, peripheral, and even processor.
Step 5
Finally, click Reboot and then OK to restart the computer to take effect.
Driver Booster will scan for drivers once a week and give a notice when new updates are available. It also creates a restore point in case you encounter new problem after latest driver installed, so you still able to rolling back. If you have a driver didn't backed up by Driver Booster, you may need to perform updates manually through Device Manager program.