Life is too short to spend clicking a series of pages. Some news sites these days splits a single page into multiple pages for increasing ads impression. However, this practice literally hurts the user experience.
As Slate said, "Pagination is one of the worst design and usability sins on the Web". While there's no such standard to regulate the news site pagination, at least, as a user we can try to avoid clicking at the "Next" link every time we reach the bottom of the page.
The following browser extensions can help you avoid those mess.
NOTE: Each news site has a different system of pagination. Hence, these extensions may work on one site, but not on others. It best to try all the extensions so you can decide which has to keep and thrown away.
#1 AutoPagerize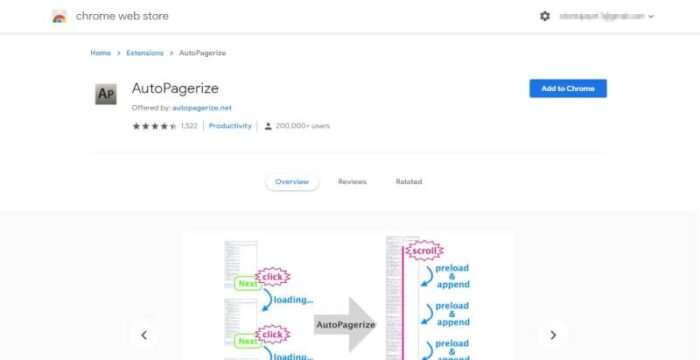 The first plugin is AutoPagerize. It has over 200.000 users and receives quite a good rating. According to the developer, this plugin will convert pagination into something we called "infinite scrolling", so no clicking required.
The extension's description says "works on many websites" but they don't specify the name. The only catch is it hasn't updated since 2014, meaning that it may no longer work on the modern web structure. Nonetheless, it's worth trying.
#2 PageZipper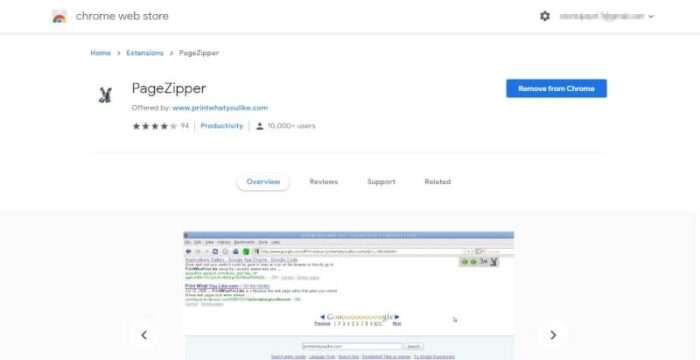 PegeZipper is actually the one that I found a bit different. Instead of zipping entire pages into a single page, it actually will load the next page at the bottom of the previous page. Quite frankly, it's not so smooth but at least works really well, even on local news sites.
In order to go to the next page without loading, you have to click on the extension icon and click the arrow. Then you will be jumped instantaneously.
#3 uAutoPagerize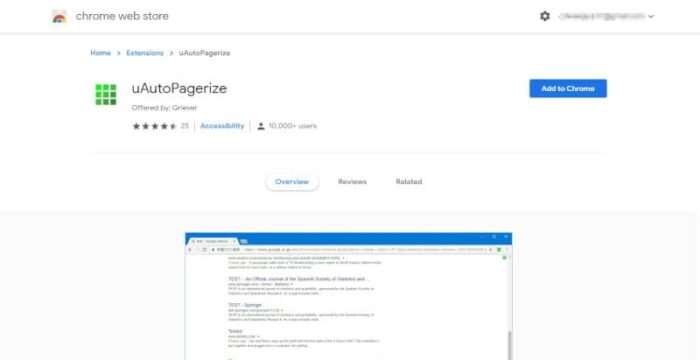 Boast with 10.000+ users, uAutoPagerize claims to have an ability to load paginated web pages automatically. The extension is so simple, there's no configuration page or switch button to enable/disable the feature.
Sadly, uAutoPagerize hasn't been updated since 2017 and its lack of description makes the overall features so ambiguous. But, if the number of installations still convincing, you may give it a try.
Install uAutoPagerize on Chrome
#4 One Page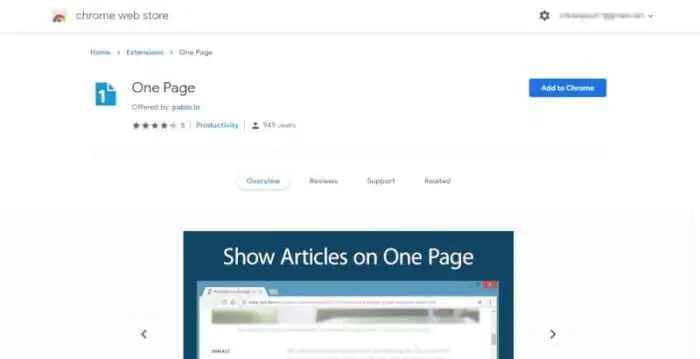 This extension displays news articles that split up on multiple pages into a single page. When this article is written, it supports several websites including Forbes, LifeBuzz, Golem, Arstechnica, Macworld, and others.
Even better, One Page allows you to send a report on a website that hasn't covered by the extension.
#5 Listicle To One Page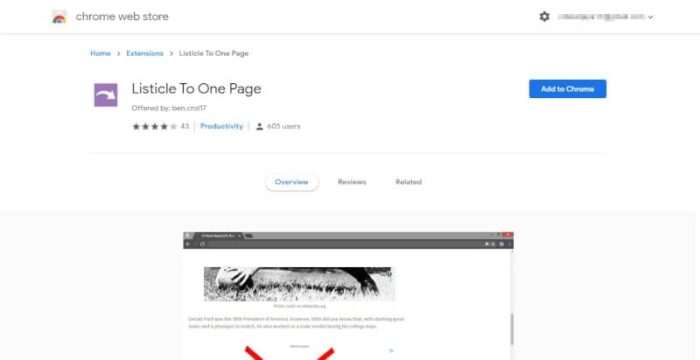 The last one is especially useful for a listicle — a type of article that can have dozens or even hundreds of pages. This extension has been in a stable version and apparently the developer is continuously updating it.
However, Listicle To One Page won't automatically display you a single page. Instead, you have to reach to the second page and then click on the extension icon to enable its "magic" feature.
Install Listicle To One Page on Chrome
---
Alright. I hope one of these plugins can help you addressing the problem.
As someone who works around the internet, I'm pretty sure someday there will be clear guidelines about pagination that prevent newsmakers from splitting too many pages on thin content.
It might sound odd, but a major corporate like Google has done something similar by 'forcing' websites to be responsive and mobile-friendly if they want to appear on the search engine's search result. So, who knows if someday we can get rid of those obnoxious web designs.
Until we see that happening, we have to stick with these extensions.