How to download Youtube videos from Android, iPhone, PC, and iPad?
Each platform might have a different app that allows you to download YouTube videos. But thanks to the programmers and engineers around the world working on modern website technology, it has become advanced enough to perform a complex task — like pulling internet videos and lets you download them directly.
There are plenty of websites offering the service for free. But you don't need all of them. So, here are some services to download YouTube videos without installing third-party apps.
This, without a doubt, is my favorite web app to download YouTube videos without limitations or member restrictions. SaveFrom has a clean, straightforward interface (although it has gets overwhelmed with banners recently).
Simply copy and paste the link of the YouTube video and the site will start fetching the URL immediately. It can fetch up to 1080p MP4 format with audio. Higher resolutions on the other hand usually will end up silent. For 1440p, 4K, and beyond, use this service.
TIP: Add "ss" before "youtube.com" to instantly visit the download page. For example, "https://www.ssyoutube.com/watch?v=…"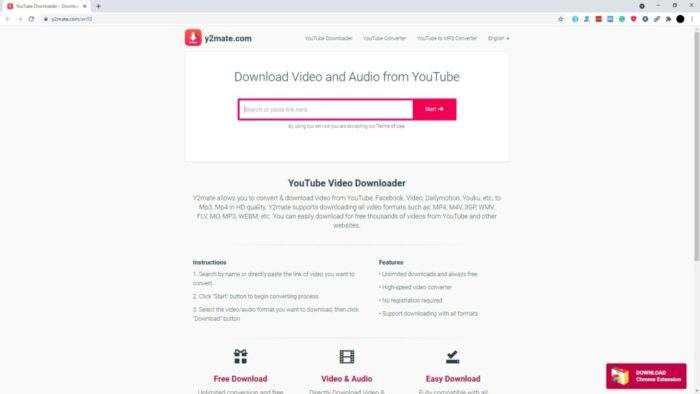 Y2mate is a relatively new YouTube downloader service that offers not only video formats but also MP3 and M4A. Its processing speed is undeniably fast. Just paste the video URL, and it will show you various resolutions you can download right away.
But from several of my testing, Y2mate seem to fail at recognizing full HD videos. Sure, it doesn't support anything above 1080p, but sometimes it can only scrape 720p video. Still, the service is quite reliable and comes with a Chrome extension to download videos right on YouTube.
TIP: Add "pp" before "youtube" to instantly visit the download page. For example, "https://www.youtubepp.com/watch?v=…"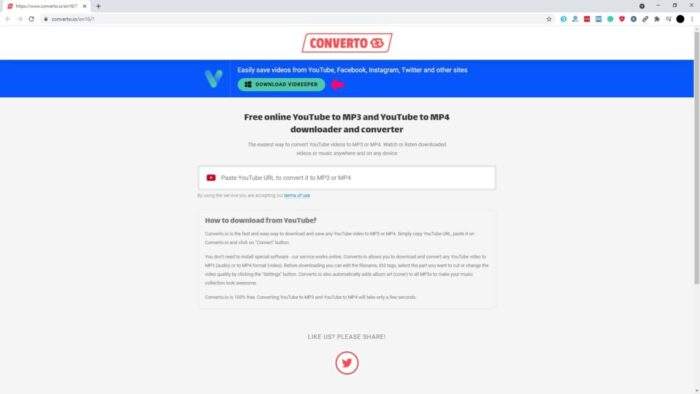 Converto is a rather simple YouTube video grabber. You can choose between two formats, MP3 for audio and MP4 for video. The video format has a few resolution options, ranging from 144p to 1080p which can be found on the setting menu.
Unfortunately, the conversion process takes quite some time even for a short video (<10 min). On top of that, Converto's ability to grab videos over 60 minutes is non-existent. So, if you want to download a long-duration video, it is best to use other services.
---
None of the services above allows you to download full HD videos with audio on. For that purpose, you need a different tool. I already covered that in this article; How to Download 4K – 8K Video from YouTube.