How to download Youtube videos from Android, iPhone, PC, and iPad?
Each platform might have a different app that allows you to download Youtube videos.
However, we can take advantage of web apps (web tools) which can be used for all platforms as long as they have internet connection.
These three best and most popular websites to download Youtube videos. They are completely free and no registration required.
My favorite web app to download Youtube videos without limitations or member restrictions. SaveFrom has a clean, straightforward interface.
Simply by copy and paste the link of the Youtube video and the site will start fetching URL immediately. It can fetch up to 1080p MP4 video and as far as I can tell does allow you to download music videos.
TIP: Add "ss" before "youtube.com" to instantly visit the download page. For example, "https://www.ssyoutube.com/watch?v=…"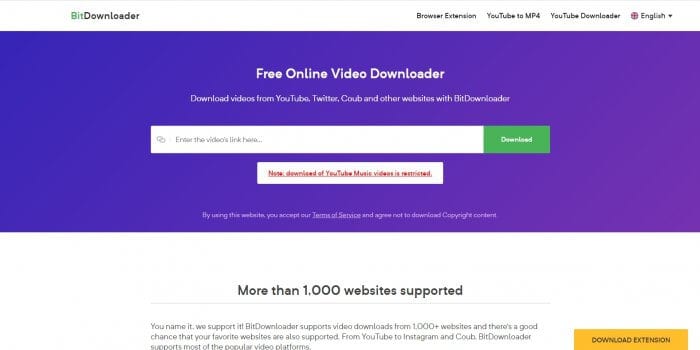 While SaveFrom supports dozen of video sites, BitDownloader also offers a music platform. It can fetch URL from Youtube, Instagram, Facebook, Dailymotion, Vimeo, Soundcloud, and much more.
It boasts with an extension that widely available for the major browser, including Chrome, Safari, Firefox, Edge, Opera, Dolphin, and UC Browser.
Instead of giving thousands of supported sites and powerful browser extension, this web app featuring wide range of video formats. It allows you to choose the format and quality before you start downloading the video or audio.
If you intend to download an individual scene from the long video, this web app also provides an option to download videos from a specific period.
---
Besides, websites on the list above have not supported 4K or 8K video download. If you want to get a huge video resolution, check out How to Download UHD Videos from Youtube.