Despite the name of Paint 3D, it still able to process 2D images like its predecessor — Paint.
One feature that confuses some people is the ability to resize an image in Paint 3D because of the nature of its new interface.
However, changing an image's dimension is very simple. Even better, Paint 3D offers more sophisticated options to let you modify the image as you will.
How to resize an image with Paint 3D
Time Needed : 2 minutes
In this tutorial, you will learn how to resize an image with Paint 3D correctly. It will change the dimension but not cropping part of it.
Open the image you want to resize with Paint 3D.

Go to the Canvas menu or you can activate it with CTRL+W.

You should see a new window on the right side. Make sure you check the Resize image with canvas option. This setting will prevent the image from being cropped when resized.

Now select the exact number you want to set, then press Enter. Since the Lock aspect ratio setting checked, you only need to change the number of the Width or Height.

You would notice the image looks smaller or bigger depending on your setting.

After finished, you can save the image. First, click Menu.

And then select Save. Or you can use hotkey CTRL+S.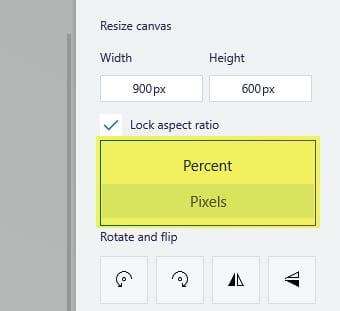 If you are not familiar with the "Pixels" unit, Paint 3D allows you to use the "Percent" unit which considerably easier for most people. The default number is 100% but you can add or subtract as you wish.
Now, you have learned how to resize an image with Paint 3D. You may play with the configurations until you master it.
I hope that helps!